Reflecting on the Cumbrian Challenge one year on
In just a few short weeks teams will come together against the stunning backdrop of the Lake District to take part in this year's Walking With The Wounded Cumbrian Challenge.
With NDT colleagues joining in the walking challenge last year to help raise funds to better support armed force veterans, the 2022 event taking place on 14th May provides an opportunity to reflect on their time undertaking the challenge.
Managing Director Phil Jennings joined NDT Operations Director Steve Murphy and James Banton, a colleague from NRL's Recruitment business who is also based in the Egremont branch, flying the flag for NRL at the 2021 Cumbrian Challenge.
A rewarding experience
"Our Compliance Manager Pat McCarthy brought it to us as a great opportunity to do something local for an important cause, and we were keen to get involved with what was happening on our doorstep.
We already knew a little about the invaluable support Walking With The Wounded provide former service personnel, and it was really interesting and touching to hear and read more about how they help. It was the very personal sacrifices that our incredible armed forces make to maintain our security and safety that made us want to take part in the fundraising event. It creates a huge debt within our society, and this was just one very small way of addressing it. Speaking to friends and colleagues it was great to see they felt the same way and were happy to support such a great cause.
The event itself, as you can imagine, was conducted in an atmosphere of open-hearted camaraderie, filled with fun and genuine support for those less able participants who were still keen to participate in the challenge. It also provided an opportunity to meet some new faces, whilst the event team worked hard to ensure everyone could compete safely.
Our team were second in the Peak event, and first in the over 50s category. Had there been an over 60s category, we'd have likely topped that too! Working as a team helped ensure we got to the end together, or as Steve says, it "bonded us as one!".
Looking back at the challenge, aside from the obvious physical benefits and triumphs from the day, the notion that our small sacrifice together with the other Cumbrian Challenge teams – in terms of time and effort – could go a long way to provide much needed practical help and support to our deserving veterans, very much stuck home. We all found the event extremely rewarding and would definitely take on a challenge like this again."
– Phil Jennings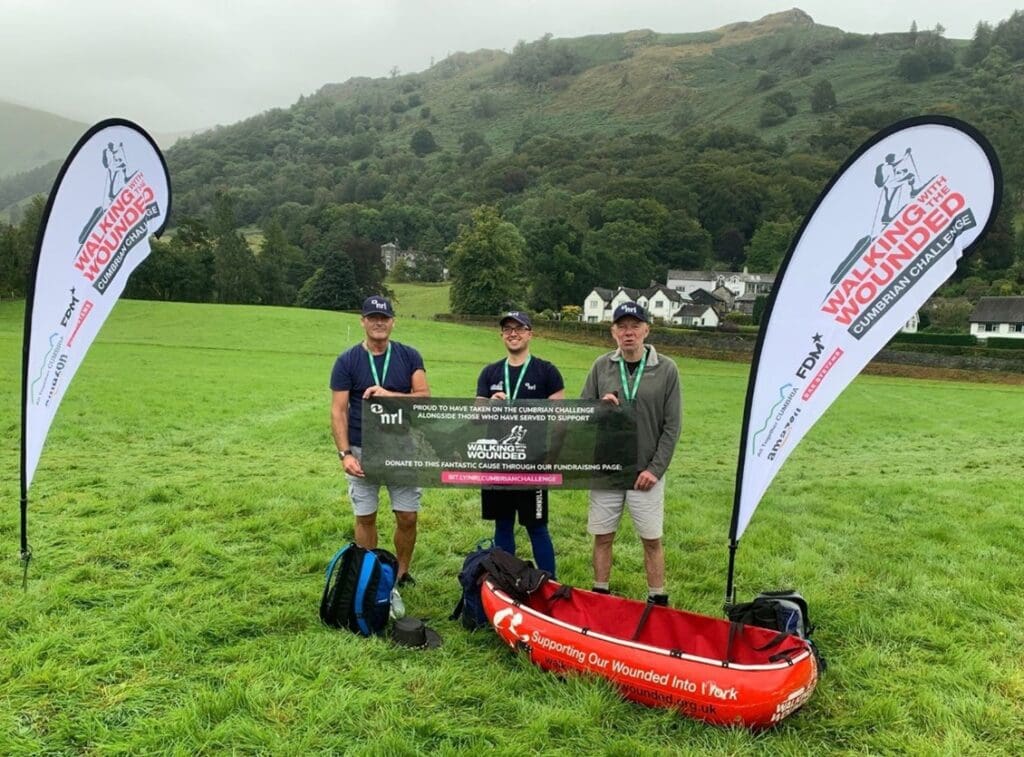 James Banton takes on the challenge for another year
For this year's event their colleague James Banton will be tackling the challenge again with local social enterprise All Together Cumbria. With a new route to take on, he'll be joining representatives from other local businesses to raise money for Walking With The Wounded.
Anyone who wants to make a donation can visit his fundraising page.
About Walking With The Wounded
In collaboration with the NHS, Walking With The Wounded work with former service personnel to provide a range of support services. These include employment, volunteering, mental health and care coordination programmes, for people who have served and their families – helping to get them back on their feet physically, mentally or socially. In 2021 their support helped 3,059 beneficiaries, thanks in part to generous personal and corporate donations.
About the Cumbrian Challenge
Held in the Lake District each year, where permitted, there are three routes on offer for people wanting to take on the Cumbrian Challenge. The Peak, covers one peak over 10km with a 641m ascent. The Tough route has 9 peaks, over 26km and a 1732m ascent. Whilst The Tougher, big one, spans 12 peaks over 32km and a 1885m ascent.
Whichever route teams choose to take on though, there is always a great atmosphere as people work together to complete the task in hand, with the opportunity to meet veterans also taking part and find out more about the great support Walking With The Wounded provides.
You can find out more about the work the charity do on their website.